Franco Albini (b. 1905 d. 1977) is the name of the the italian neo-rationalist, proto-high tech architect/designer, whose Milan 1940 apartment we see above and further down the page. A one-off sailboat inspired bookshelf-prototype from 1938 acted as a space divider (until it collapsed); it has now been meticously re-constructed and reproduced by the technicians of Cassina. Originaly built from ready-made industrial components, its current price from Cassina should spur any Do-It-Yourself-ers to the challenge of creating one's own. Also notice the paintings hung on poles in the middle of the rooms.
If you imagine yourself seeing traces of Gio Ponti's work, then you just may be right (or lucky): Albini worked for Uncle Joe for a year after graduating from architecture school in 1929 (Politecnico di Milano. The year after he set up his own shop). Having said that, the differences in their respectice works are vast. Compared to the structure-driven designs of Albini, Ponti can come of as a luxurious décorateur; Albini instead focusing on devoting his time to designing for the common man.
Desk from 1950 for Knoll, based on a 1938 design.
The 1959 Tre Pezzi chair, inspired by the bergère`. For Carlo Poggi, Pavia, now reissued by Cassina.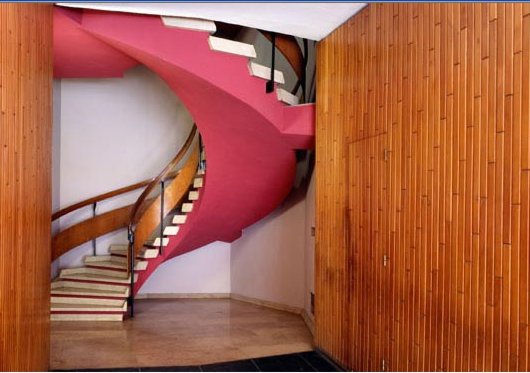 Edificio per uffici INA - Parma, 1950 - 54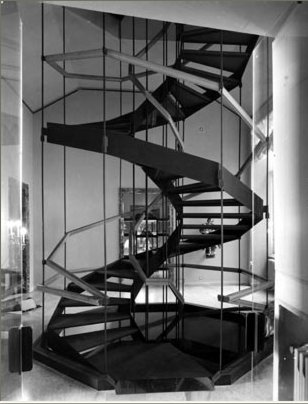 Galleria di Palazzo Rosso - Genova, 1952 - 62
And last but not least: The breakthrough:
A glass radio. From 1938! (Guten Morgen Schneewittchensarg!) Presented at the 1940 Wohnbedarf-exhibition in Zürich.